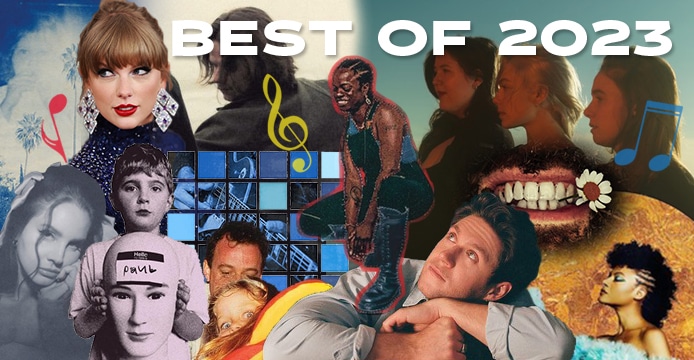 What a year it's been for music lovers!
Allison Russell and Joe Bonamassa delivered superb new releases this year.
English rock band Blur surprised us with bittersweet "The Ballad of Darren"  in July.
Taylor Swift gave us two exceptional re-releases, "Speak Now (Taylor's Version)" in July, and "1989 (Taylor's Version)" in October. 
Shakira's fun and cathartic  "Bzrp Music Sessions, Vol. 53" – released in January – still sounds fabulous all these months later. It was named Song of the Year at the Latin Grammys.
Olivia Rodrigo's ambitious "Guts" delivered shimmering guitars, alluring ballads, and solid hit single "Vampire." PINK gifted us with her dazzling "Trustfall."
And The Beatles surprised the music scene with their poignant "Now and Then." Written by John Lennon in 1977, it was finally finished this year by Paul McCartney and Ringo Starr. George Harrison's guitar parts also remain intact. Debuting at number 7, it's their landmark 35th Top Ten.
In a nutshell? 2023 flaunts exceptional albums in every genre, and no shortage of new talent to love.
Here's my take on what rose to the top of the music scene.
boygenius – the record
One of the most accomplished new bands to gain notoriety this year is boygenius.
They dropped their debut "the record," in March. It's intimate indie alt-rock at its finest.
The new supergroup is comprised of musicians Julien Baker, Phoebe Bridgers and Lucy Dacus.
From their endearing folk harmonies on a cappella opener "With You Without Them," to introspective rocker "Anti-Curse," boygenius's debut is a memorable journey we'll enjoy for years.
Top tracks include boisterous "$20", "Leonard Cohen" and its purest of harmonies; and "True Blue," which explores a relationship's highs and lows.  We mourn a relationship that's over via acoustic "Cool About It." There's also irresistible hit single "Not Strong Enough."
Skillful songwriting and a comfortable cohesiveness make this album a winner.
Tracking the band's continued successes in 2024 will be exciting.
Hozier – Unreal Unearth
It's been 4 years since Irish singer-songwriter Hozier gave us "Wasteland Baby."
This year's "Unreal Unearth" has all the hallmarks that set him apart as a superior artist: rich arrangements, sharp social commentary, myth, lyrical imagery.
Hozier always finds ways to explore life's joys and pitfalls via soulful melodies and poetic lyrics. The sixteen ambitious tracks on "Unreal Unearth" include R&B hit "Eat Your Young" and joyous "Damage Gets Done," featuring Brandi Carlile.
Yes, Hozier read Dante's Inferno during the pandemic. That's what inspired much of "Unreal Unearth." Fortunately – even given the album's heavy themes – his innate sense of rhythm, clever lyrics and deft guitar style gladden our hearts.
While reading Dante's Inferno, Hozier says a sentence about "the population of loss" struck a chord with him. "I'm not an academic, but for me, all those myths are happening around us all the time."
In the often shallow world of popular music, how we wish we could clone Hozier.
Taylor Swift – Midnights
Reflections, revenge and midnight confessions are the inspiration behind Taylor Swift's "Midnights."  It's the year's top-selling album.
Swift still excels at being a consummate, unflinching, articulate storyteller. Consider for example, her playful, artistic approach recounting a New York City romance on the album's mournful "Maroon."
Listen also for whimsical "Lavender Haze" and intimate "Mastermind." Highest praise for autobiographical "You're on Your Own, Kid."
"Midnights" apex is hit single "Anti-Hero." The lush electro-pop track explores Swift's insecurities in ways both commanding and cathartic. "This song is really a guided tour through all the things I tend to hate about myself," says the artist.
So-called 3-AM tracks "Dear Reader", "The Great War" and "Would've, Could've, Should've"  are masterworks. The latter two are co-written with Aaron Dessner (The National, Big Red Machine).
Thanks to "Midnights," this year Taylor Swift became the first artist in history to capture the entire Top 10 on the US Billboard Hot 100 Chart. 
"Midnights" should cinch Album of the Year in 2024.
Half Moon Run – Salt
With 5 albums to their credit, indie alt-rock band extraordinaire Half Moon Run remain one of the best-kept secrets of the music scene.
Based in Montreal – where the indie rock band is a household name – Half Moon Run are often praised for their vocal harmonies and exceptional use of layered percussion. It's too bad they haven't gained the following they deserve here in the U.S., but that doesn't stop yours truly from keenly anticipating and acquiring every record.
"While making this record, it felt as if we were boiling down a huge cauldron of musical ideas," says band member Conner Molander.
"Salt" emerged after the band dug through some 3,000 past studio recordings. Perfectionists, much?
Songs like "Goodbye Cali" and "You Can Let Go" will surely find their way to your heart. Finely honed "Alco" – technically 13 years in the making – is resplendent.
In short, Half Moon Run have never sounded better than they do on "Salt." It's one for your collection.
Niall Horan – The Show
Niall Horan scored big with one of the most skillfully made pop releases of the year. There's not a single track that disappoints on "The Show," a title he chose as a metaphor for life.
The album opens with jubilant "Heaven." It's a musical bop with the magic of a carousel ride. It sets the tone for the entire record.
"The Show" represents a natural progression of Horan's songwriting career. He shares a little wisdom in introspective ballads like "Science." The party vibe of "On A Night Like Tonight" is perfect concert fare. The album's brooding title track was written during the pandemic.
And the optimism of "Never Grow Up" – which cleverly explores keeping fires lit in a long-term relationship – is sheer songwriting genius.
Closing track "Must Be Love" retains the amusement park-vibe of opening track "Heaven."
All-in-all? "The Show" is a production you won't want to miss.
Sunny War – Anarchist Gospel
Nashville-based roots musician Sunny War is an artist to keep your eye on. With 4 albums to her credit, she never disappoints.
This year's alt-folk, bluesy "Anarchist Gospel" is exceptional. And it's receiving high praise from the likes of Rolling Stone, NPR and Mojo.
"Anarchist Gospel" is an impressive combination of spunk ("No Reason"), spite ("Baby Bitch") and vulnerability ("New Day"). We feel her desperation and resignation in songs like "I Got No Fight," which she wrote after a relationship ended and she contracted Covid.
Vocals are soulful, deep, real. The album also boasts guest appearances by Allison Russell and Dave Rawlings.
The comforting "Whole" is on our playlist.
Years ago, Sunny War could be found busking the streets of Venice, California, while perfecting her unique acoustic fingerpicking style. Today, her signed vinyl is out of stock on her website.
One of the best new voices in American roots music.
Fruit Bats – A River Running to Your Heart
The impeccable Fruit Bats inspired and delighted us this year with "A River Running to Your Heart."
With 10 albums to their credit, Fruit Bats aren't new to the Indie rock music scene. "A River Running to Your Heart" is an entrancing, sunny collection of expertly crafted tracks
Themes include California, the Pacific Northwest, a sense of place, and what it means to be home.
At the helm of Fruit Bats is ever-talented singer-songwriter and multi-instrumentalist Eric D. Johnson. A former member of The Shins, Johnson formed folk group Bonny Light Horseman in 2019. Their self-titled album was Grammy nominated for Best Folk Album.
"A River Running to Your Heart" is filled with high points. Listen especially for the exuberant title track, and eloquent, uplifting "Waking Up in Los Angeles." The intimate, nostalgic "We Used to Live Here" will make you misty-eyed.
And effusive, expansive "It All Comes Back" – a song about coming back home to oneself – tugs at your heartstrings. It's quintessential Fruit Bats.
Says American Songwriter: "to describe (the new album) as simply exceptional doesn't say it all."
Fruit Bats – an extraordinary indie band with ten albums behind them – continue to amaze.
The National – First Two Pages of Frankenstein
American rock band The National released "First Two Pages of Frankenstein" in April.
An alt-rock triumph, it was produced at Aaron Dessner's Long Pond Studio in upstate New York. It boasts appearances by Sufjan Stevens, Phoebe Bridgers and Taylor Swift.
"New Order T-Shirt," a fan favorite, is a bittersweet tribute to a past lover. It emphasizes acoustic guitar, powerful vocals and a lovely, rich tempo.   
"Tropic Morning News" is another highlight. It's got a War on Drugs vibe that makes it easy to imagine The National playing it live in a crowded concert hall.
Rich and somber "Eucalyptus" – about a couple breaking up – is perfectly executed. It spotlights Bryce Dessner's superb Mark Knopfler-style guitar. Taylor Swift provides vocals on "The Alcott," a bright, lovely track about two people reconnecting.
Some have criticized "First Two Pages of Frankenstein" as an album that doesn't break enough new ground.
Coming as it did right out of the pandemic, I'll stand by "alt-rock masterpiece."
Allison Russell – The Returner
From bluesy opening track "Springtime," to acoustic folk triumph "Requiem," Allison Russel's melodic "The Returner" is one of the year's musical highlights.
Canadian multi-instrumentalist Russell flaunts her musical instincts on songs like "Stay Right Here" (on our playlist), and the album's title track. With compelling lyrics and lilting vocals that draw you in, she's a roots-pop rising star who merits attention.
An activist, this year she organized Love Rising, an all-star benefit concert in Nashville that was a response to Tennessee's anti-LGBT+ legislation.
On "The Returner," listen for intense, exquisite "Snakelife." Russell's description? It is "an invocation of the Afro-Future-Rainbow-Coalition-Transformative Universe I wish to inhabit and foster."
"The Returner" is worth adding to your collection just for the cover art alone. It's the icing on a rich, many-layered collection of songs that should last well beyond the majority of the year's best selling releases.
Joe Bonamassa – Blues Deluxe Vol. 2
American blues rock guitarist Joe Bonamassa released "Blues Deluxe Vol. 2" in October, and it's spectacular.
Bonamassa covers all angles, with songs that range from Chicago blues to Memphis R&B. He's on fire on tracks like "Twenty-Four Hour Blues" and "Is it Safe to Go Home." We've got "I Want to Shout About it" on our playlist.
Also particularly noteworthy are Bonamassa's ace vocals on Guitar Slim's "I Done Got Over It."
On "Lazy Poker Blues," Bonamassa's ace guitar riffs are reminiscent of the legendary Robbie Robertson. And don't miss his own "Hope You Realize It (Goodbye Again)," an upbeat toe-tapper with an ace horn section.
"Blues Deluxe Vol. 2" exudes a rich party vibe that should make it a natural for your New Year's Eve enjoyment.
Lana Del Rey – Did You Know That There's a Tunnel Under Ocean Blvd
Lana Del Rey gave us a more personal album this year then her past releases. It's being justifiably adored by fans and critics.
The singer's career has been hampered by a fickle, sometimes superficial fandom and media. Here she shares honestly her life's struggles with addiction and sexual assault, creating musical solace for others who've been down that road.
Ultimately, "Did You Know" is about vulnerability. She lovingly reminisces about family on "The Grants," but hints at childhood sexual abuse in "A & W." A Grammy contender, "A & W" begins as a haunting piano ballad recounting childhood trauma. The creative and stunning 2-part track then transitions into soft hip-hop as modern-day Lana describes doing drugs with a guy pal.
Other difficult topics she explores on the album: getting older, watching others die, waiting for love. 
The album also features a guest appearance by Jon Batiste on atmospheric "Candy Necklace."
Said Del Rey in 2020: "…you don't want to believe that a woman could be beautiful, strong and fragile at the same time." Here, she seems all those things.
Alvvays – Blue Rev
Canadian indie-pop Alvvays returned to the music scene with "Blue Rev" in late 2022. Yes, it meets Grammy submission timelines for 2024.
Their third studio release, the album is earning high praise from fans and music critics. The album boasts a warm and fuzzy, but also distinctly Lo-fi vibe, heavy on guitars, distortion, and edge. And singer-songwriter Molly Rankin has a knack for penning simple lyrics that strike a deep vein.
"Blue Rev" was delayed by a series of unfortunate events that included the pandemic. Los Angeles producer Shawn Everett (War on Drugs, The Killers) weaves some magic with the band, and the results are impressive.
Plaintive "Easy on Your Own" gets high marks for compelling lyrics expertly sung by Rankin within an appealing, atmospheric dream pop vibe. "Pharmacist" is a track so effervescent you'd never guess it's about a past love interest who's moved on.
The band is Grammy nominated for Best Alternative Music Performance for anthemic "Belinda Says."
In short, "Blue Rev" boosts Alvvays's already strong catalog of music.
That's a wrap!
2023's music scene was filled with exceptional music, and KRVM plays a lot of it!
KRVM is a listener-supported public radio station licensed to Eugene School District 4J.
We work to enrich the quality of life – and enhance the variety of music – in our community.
Please make a donation here.