Looking for new, upbeat tunes to lift you out of the pandemic doldrums?
You're in luck! "Medicine," the new EP from Eugene's The Muddy Souls, just dropped.
Their music – an acoustic blend of folk, bluegrass, and country – is sure to get you smiling and stomping your feet.
Check out "Ramblin Blues"!
We had a chance to visit with The Muddy Souls about "Medicine," their new release. Here's what they had to say about the inspiration behind some of the tracks.
KRVM: "How did the band come up with "Medicine," the title track?
Jacob Camara: "Medicine was a song that was written prior to the COVID-19 pandemic, although its theme is certainly relevant to our current global health crisis."
"Originally written as a blues song for my solo project, I changed the chords and timing to fit The Muddy Souls bluegrass style and instrumentation. It became one of the first songs that I really felt comfortable playing the 5-string banjo on," adds Camara.
KRVM: "Calm Before the Storm" is a really fun track with some ace mandolin work! Tell us a little bit about that."
Austen Slone: "'Calm Before the Storm' is a collaboration between my brother and I. I originally wrote the melody to the song on guitar, and my brother wrote the lyrics sometime before 2001."
Continues Slone, "He died in June 2001, and I have spent some time since moving to Eugene 5 years ago, processing his death as an adult. I visited the lyrics last year for the first time in a while, with the idea to put some music to it. 'Calm Before the Storm's' mandolin work and the overall melody was written to reflect my brother's dynamics when composing original songs. The mandolin came after the song had been written and composed."
About The Muddy Souls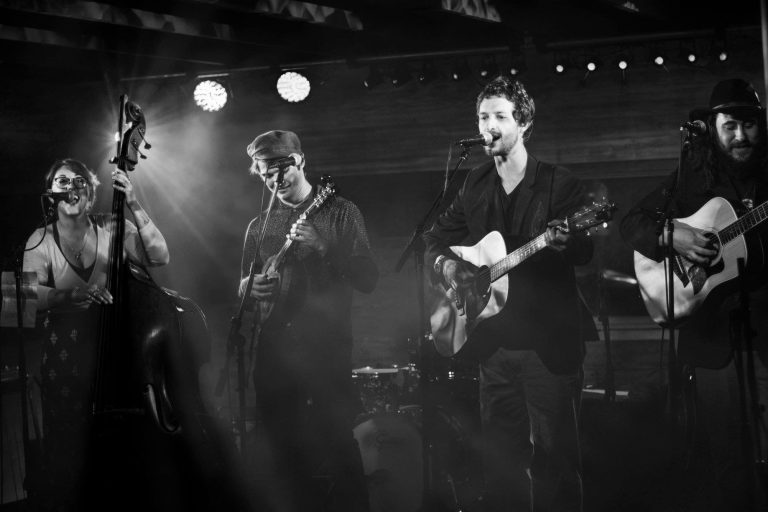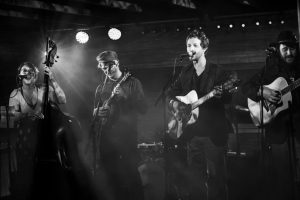 The Muddy Souls are: Peter Romanelli, guitar and vocals, Grace Honeywell, fiddle and vocals, Mila Butler-Bass, vocals, Jacob Camara, banjo, guitar, vocals, and Austen Slone, mandolin, vocals.
The band's acoustic, American roots music is carefree and solidly performed. Band members tell us they took their time traveling a long and winding road to Eugene.
But on that windy road, they've covered music by everyone from Django Reinhardt, David Grisman, and Willie Nelson to Radiohead.
The new album confirms the band's gift for delivering an upbeat and original sound. "Medicine" is sure to please fans spinning tunes, listening to KRVM, or coming to their shows.
KRVM: "Ain't No Tellin'" has a great, take-it-easy summertime vibe. Is that an original?"
Pete Romanelli: "Ain't No Tellin'" is an original. It was a message to a past love about surrendering to the uncertainty of life and trusting in the fact that we are on the right path."
"I wrote it on a warm summer night sitting on my porch, so that could be where the summertime vibe comes from," adds Romanelli.
KRVM: "Need to compliment you on the great album artwork! We'd love to know more about it."
Austen Slone: "Our amazing album artwork was done by local Eugene artist Miriam Valentine. We gave her some basic ideas and themes to work with, and she somehow intuited exactly what we had in mind…we hope to have her design future album covers."
Support The Muddy Souls and local musicians
Yeah… we're in a holding pattern with live music and the pandemic, most likely until early next year.
Meanwhile, you can find music by The Muddy Souls on iTunes or on their website.