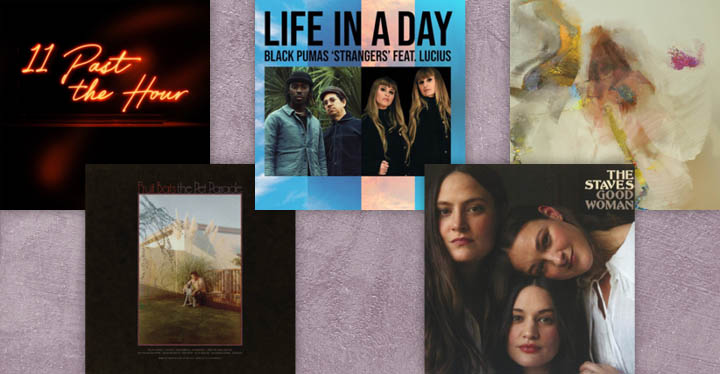 While we patiently wait to find out if our favorite music venues re-open this year, there are, fortunately, plenty of new mood-boosting tracks to help us stay motivated!
Here's just a few new tempting music releases to tickle your ears.
Fruit Bats – "The Balcony"
"The Balcony" from Chicago's Fruit Bats is an appealing, upbeat number about patience during isolation.
Frontman Eric Johnson says music was partly inspired by the movie "Cabaret," the Star Wars cantina scene, and by Steve McQueen's "Lover's Rock."
From the new album "Pet Parade," top-knotch musicians on this terrific single include Josh Kaufman (Bonny Light Horseman) and Matt Barrick (The Walkman, Fleet Foxes).
Don't miss it!
Imelda May – "Just One Kiss"
Irish singer-songwriter and multi-instrumentalist Imelda May pulls out all the stops on this flirty, rollicking new track. From her upcoming "11 Past the Hour" release, "Just One Kiss" is a spunky dance track with attitude.
How could it not be?
The newest from this uniquely talented artist boasts stellar musicians Noel Gallagher and Ronnie Wood.
Black Pumas – "Strangers"
Black Pumas new  "Strangers" is that rare track that sounds familiar and brand-new all at once.
Originally by The Kinks, soulful "Strangers" gets new life from the Grammy-nominated duo via strings, piano and organ. And vocal harmonies by this Austin-based psychedelic soul band are rich and heartfelt.
Lastly, "Strangers" is an inspirational track to listen to on a road trip – this writer can attest to that!
The Staves – "Good Woman"
The Staves are an established indie folk trio who've performed at Glastonbury and toured with Bon Iver. The title track from their newest album is as good a place to start as any in getting to know this outstanding band.
Warm harmonies, enthralling musical textures and a great arrangement make "Good Woman" an excellent track to add to your current playlist.
"Good Woman" is an appealing, ethereal rock arrangement with lovely layered vocals sure to pull you in.
Flock of Dimes – "Two"
This is an ace track for all who gravitate towards warm, progressive synth pop. Lilting vocals and a splendid arrangement comprise a sweet, soothing treat for the ears.
Flock of Dimes is the fine solo project of Jennifer Lynn Wagner, a founding member of outstanding indie rock band Wye Oak.
Thanks for listening
That's a wrap.
Thanks for listening to KRVM, and supporting listener-powered radio!