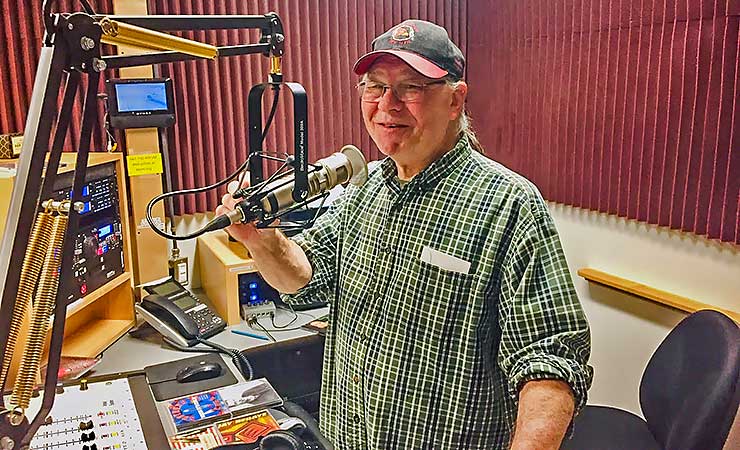 Lane County is blessed to be the site of several regularly scheduled powwows – including the annual Mother's Day powwow held every year in May.
KRVM has been extremely fortunate, as well!
Nick Sixkiller, show host of "Indian Time," provides KRVM listeners hundreds of hours of listening pleasure via his extensive knowledge of artists and music in the Native American genre. He's also been an emcee at powwows in the Pacific Northwest for more than twenty years.
"Indian Time" explores the extensive and richly varied world of American Indian Music, and airs 7-9 pm every Thursday night.
We had a chance to visit with Nick recently about the history of this special show, and how he brings it all together.
KRVM: "How many years have you been hosting "Indian Time"?"
Nick: "The show began in 1995, so it's 24 years this year."
"I originally got the idea for the show from listening to Warm Springs radio while on the way to Burns. At that time, KRVM's director was part Native American and so was the music director. They liked the idea."
"When it first started, the show was an hour, then it grew to two."
KRVM: "You're Cherokee, right?"
Nick: "Yes, Cherokee of Oklahoma."
KRVM: "Who are your current favorite artists? Who are your past favorite artists?"
Nick: "Black Lodge from the 70s was my favorite powwow group. For contemporary tracks, I like flute music, and Northern Cree for drum groups."
The Hippity Hoppity, Northern Cree
KRVM: "How do you usually put playlists together for your shows?"
Nick: "Usually it's how I feel at the time, and then I hope everyone else likes it."
"I try to change things around and get a mix in there. Sometimes callers request their favorites; we're not supposed to take them, but sometimes I do."
"Canyon Records gives me a lot of support…and north of Lebanon is Bonds Indian Supply, they've been helpful with their CD's."
KRVM: "What do you think has kept 'Indian Time' on the air for so many years?"
Nick: "I'm hoping it's the popularity of it, there's a lot of fans. I also get a lot of calls during station fundraisers."
KRVM: "And listeners like to hear about upcoming powwows, right?"
Nick: "Yes, I usually include local event announcements."
KRVM: "Do you get much feedback on the show from listeners in the community?"
Nick: "Phone calls mostly, even a caller from Alaska. I've also had listeners call from Missouri, Oklahoma and Afghanistan. It's a blast."
"I took a five month sabbatical recently to take a break, and I guess the station got a lot of calls."
Says Nick: "Sometimes I play (contemporary) music that upsets people. John Trudell's music is an example. I don't want people to feel guilty about the past, it is history, though."
Lastly, adds Nick: "Every show, I play at least one song to honor veterans." (Native Americans serve in the armed forces in greater numbers per capita than any other ethnic group).
Many in the community are very grateful to have Nick Sixkiller playing these old (and new) melodies so everyone can enjoy the energy and harmony of Native American culture.
Each week, Nick closes out Indian Time with a beautiful melody from Fawn Wood.
Enjoy!
It's Our Arbor Tonight, Fawn Wood
And Thank You, Great Spirit, for KRVM's Indian Time. Aho!