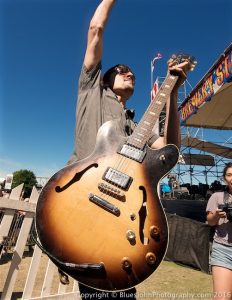 Long-time KRVM listeners know how much the station loves the blues. For blues aficionados, there was excitement in the air as guitar phenomenon Ty Curtis performed in Albany at the Northwest Art & Air Festival.
Here's the lowdown from an interview prior to the Festival:
KRVM: "We hear fans can catch you live Sunday at Albany's Balloon Festival (August 26-28). Is this an event you've played before?"
T.C.: "No…have never played this before, but looking forward to it!"
KRVM: How long will you be performing that day?
T.C. "We have a 90-minute set."
KRVM: "How has the Austin scene been for you this year?"
T.C. "Pretty good!! We are playing much more there…looking forward to getting back home with the new album in-hand."
KRVM: "Any other Portland or Eugene appearances coming up?"
T.C.: "I have Billy Blues (in Vancouver) coming up September 2nd before I leave back home. We will be back in the middle of October for a short run!!"
Key to My Heart
You can find Ty Curtis's music on his website or on iTunes. Find additional tour dates here.
Enjoy the show Sunday!