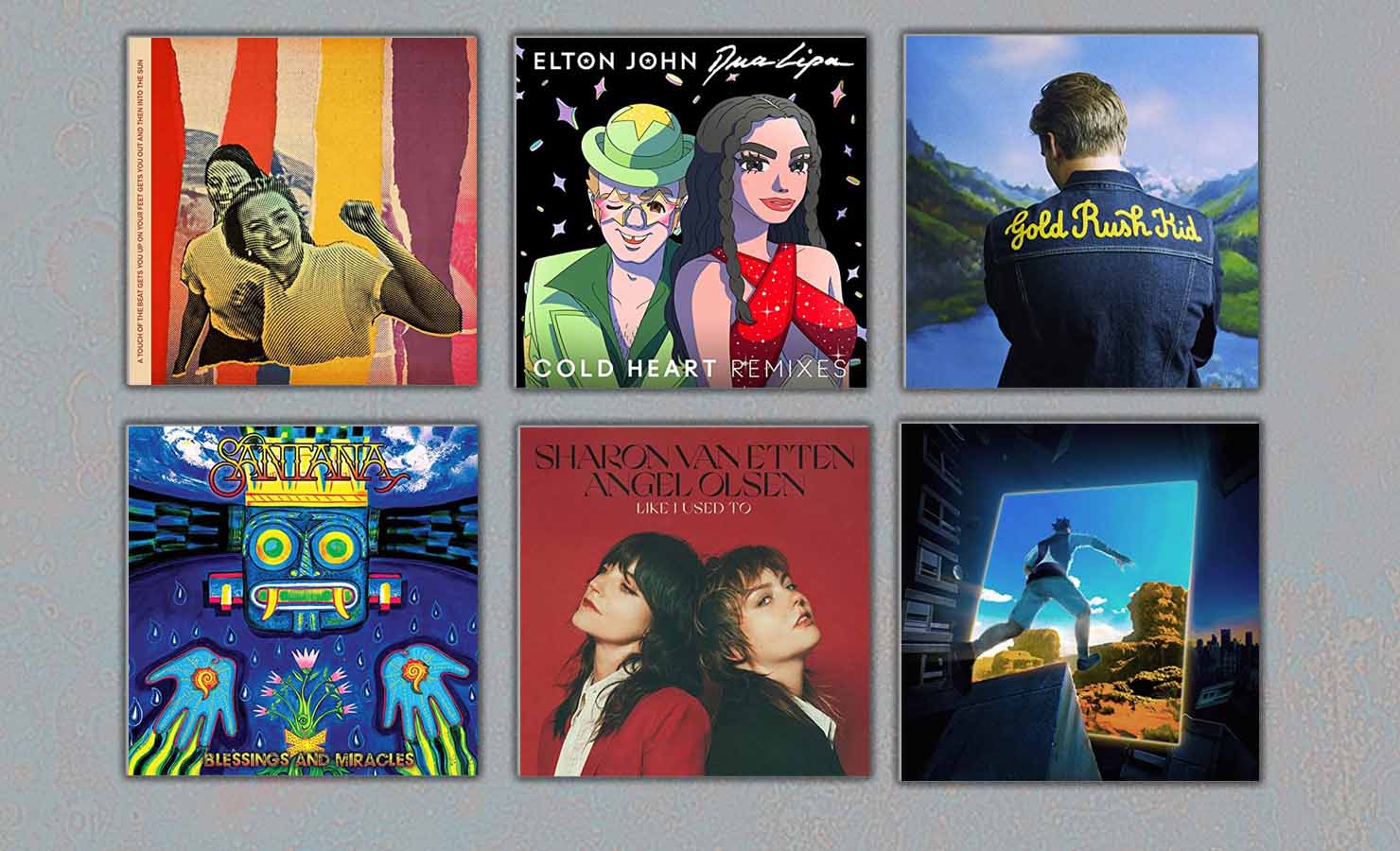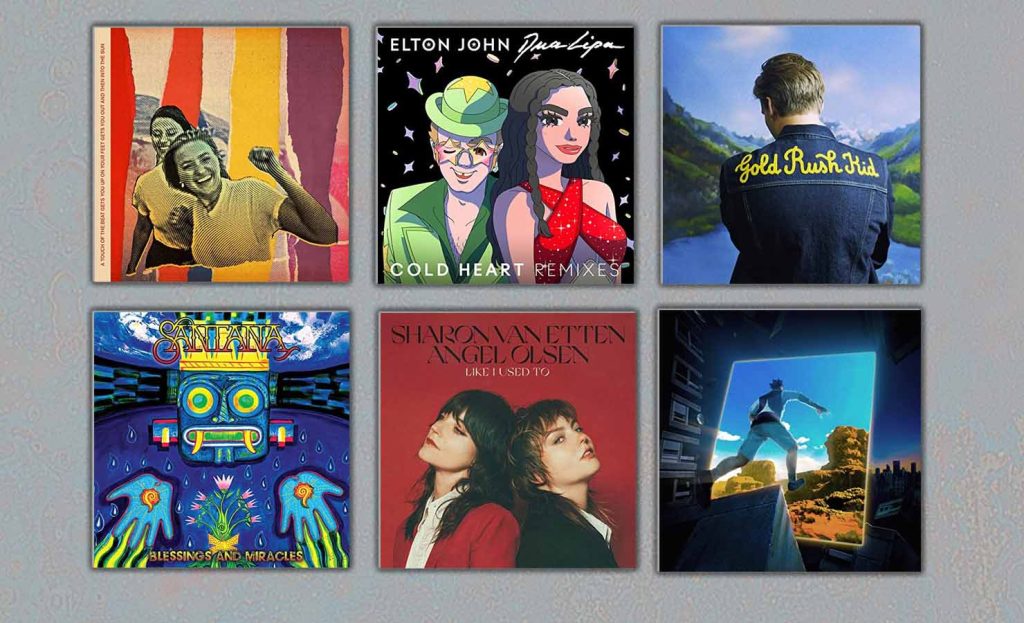 What's new on the music scene?
There's lots to be excited about, let's take a look.
Elton John / Dua Lipa – "Cold Heart"
For a rush of smooth-as-silk pop with a hint of nostalgia, give Elton John and Dua Lipa's "Cold Heart" a spin.
A superb collaboration, it's built upon Elton John's songs "Rocketman" and "Sacrifice."
Vocals by this pair on this dance pop remix are a perfect compliment. Have a listen:
"Cold Heart" comes from Elton John's recent "The Lockdown Sessions," which hit the #1 spot in the UK charts.
Comprised of collaborations with a variety of talented artists – including Miley Cyrus and Stevie Wonder – it's a fantastic assortment of tracks you'll want to delve into.
Aly & AJ – "Symptom of Your Touch"
American pop duo Aly & AJ are back with "Symptom of Your Touch," a stellar synth-pop arrangement worthy of acclaim.
Shimmering guitars create a lush vibe, and the crystal-clear vocals by the California-based musicians are compelling.
In 2005, Ally & AJ's debut studio album was certified gold. And last year, their re-released "Potential Breakup Song" won "Best Comeback song" at the MTV Video Music Awards. "Symptom" comes from their fourth studio album A Touch of the Beat Gets You Up on Your Feet Gets You Out and Then Into the Sun," released last year.
In short?
It's a great track from an album filled with excellent musicianship.
Carlos Santana "Joy"
Carlos Santana's "Joy," from his new "Blessings and Miracles" release, is pure electric guitar sizzle. It's a superlative blues arrangement with a fun reggae beat we think you'll love.
Grammy-winning musician Chris Stapleton, who also produced the track, adds vocals and guitar to the well-crafted song.
Other artists on "Blessings and Miracles" include Chick Corea and Rick Rubin. "Joy" is on our Playlist.
Bastille – "Thelma & Louise"
The always appealing English pop band Bastille have done it again with hit single "Thelma & Louise." A fun drumbeat, lush synths and a great chorus make it a natural for radio and dance clubs.
Have a listen:
It's the perfect track to get us thinking about the warm days of summer and escaping to a new, sunny destination. Of course it's based on the 1991 movie, "Thelma & Louise."
"I wanted to write a love letter to that film," says Bastille frontman Dan Smith. Job well done.
"Thelma & Louise" comes from Bastille's just-released "Give Me the Future" album. It's their third UK Number One album.
Sharon Van Etten and Angel Olsen – "Like I Used To"
Watch especially for lovely and pensive "Like I Used To."
Musicians Sharon Van Etten and Angel Olsen admired each other from afar. Fortunately, they decided to meet up. The result? This very special track.
Etherial and sincere, "Like I Used To" is an acoustic Americana ballad filled with heartache and a hint of country.
Like I Used To
Van Etten and Olsen are on to something.
Let's hope we hear more from them this year!
George Ezra – "Anyone for You"
George Ezra is back on the music scene with jubilant, melodically captivating "Anyone for You." It's his first new music since "Staying at Tamara's" in 2018, and it's on our playlist.
Catchy lyrics, exuberant keyboards and Ezra's distinct baritone make for the perfect lift.
Ezra's new album "Gold Rush Kid" releases June 10th.
We'll be watching for it!
More music news
Hippo Campus – "Ride or Die"
We're loving "Ride or Die" from Indie-rockers Hippo Campus. The upbeat track comes from the Minnesota-based band's newest "LP3" release, and it's on our playlist.
New Fleet Foxes live album
Robin Pecknold (Fleet Foxes frontman) released live album "A Very Lonely Solstice" in December. From a livestream concert recorded in Brooklyn, it's a lovely, contemplative collection of mostly solo songs from the band's body of work. In a more perfect world, the concert would have been televised over the holidays. Maybe next time, but for now, it's available on iTunes.
The Lumineers – "Where We Are"
"Where We Are" is classic Lumineers, and one for your collection. It's on our playlist! This indie folk-rock track features bright vocals, a melodic hook and heartfelt harmonies.
"Where We Are" comes from the band's fourth studio album, "Brightside."
Eugene's live music scene is buzzing
This year it seems there are more live shows on the horizon than ever. Here in Eugene, we're lucky to have an abundance of music venues and live music opportunities.
In April, blues-rocker Curtis Salgado, and Portland's well-loved Blitzen Trapper, both have concerts scheduled at Sessions Music Hall. The Talbott Brothers perform at Sessions in May.
Keb' Mo' and Randy Newman are both scheduled to play The Shedd Institute in May.
The always-entertaining Modest Mouse perform at the Cuthbert Amphitheater in May.
Imaginative and astonishing Lord Huron will even be here. Their show is scheduled for May at The Hult Center.
Legendary blues icon Bonnie Raitt has a show scheduled at the Cuthbert Amphitheater in August, as does southern California's fabulous reggae band Rebelution.
There are lots more concerts coming, so check listings at your favorite venues. Better yet, sign up for their mailing lists.
That's a wrap
Thanks for supporting new music, musicians, and the music venues of Eugene.
Please like us on Facebook, and remember to follow us on Twitter. We follow back!
Most of all, thanks for supporting listener-powered radio at KRVM!