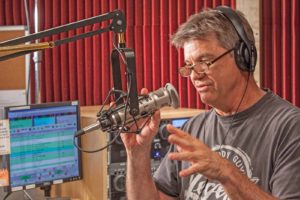 KRVM's Brad Cook has been at the helm of the station's premier "Breakfast with the Blues program" on Saturdays  for nearly eighteen years now.
We thought it high time we shared Cook's wealth of knowledge about all things blues-related with listeners.
Here's how he answered a few questions we recently posed!
KRVM: "Who introduced you to the blues? Who were some of your earliest favorite blues musicians growing up?"
Cook: "I was introduced to the blues indirectly at first through the British guitarists…ala Eric Clapton, Jimmy Page and Jeff Beck."
"Then, in 1980, I was turned on to public radio. I was living in Clearwater, Florida and a friend turned me on to WMNF out of Tampa. Monday through Friday 1-4 the format was Jazz, Blues and Reggae."
"My first blues concert was B.B. King with Bobby Blue Bland in the Bayfront Center in St. Petersburg, Florida. That was 1978."
Continues Cook, "In the early 80's, my father's neighbor, a volunteer DJ at WMNF, couldn't believe someone as young as me was a regular listener. He popped over to his apartment and returned with several albums; among them was Brownie McGhee and Sonny Terry with Earl Hooker – an album titled 'Couldn't Believe my Eyes.' This was my first blues album and I still cherish it today."
KRVM: "Do you enjoy other music genres? Who are your favorite bands or artists?"
Cook: "Slightly Stoopid and jazzy blues with Karl Denson's Tiny Universe. Also The Grateful Dead…I never get tired  of hearing Jerry play."
Added Cook, "I listened all day today to Ella Fitzgerald and Louis Armstrong…yesterday it was the Grateful Dead and the Red Hot Chili Peppers."
KRVM: "What are your favorite music venues here in Eugene?"
Cook: "Eugene is very fortunate for its variety of venues!"
"I'm the club photographer for Sessions Music Hall. My favorite venue to photograph in is the McDonald Theater; the height of their lights in relation to the stage makes for some incredible photos. And it's hard to go wrong with the Hult Center or the Cuthbert."
KRVM: "Do you ever host any blues musicians in the studio?"
Cook: "Rarely…it's tough to awaken any musician at that hour of the morning but every once in a while we sucker by."
KRVM: "Favorite piano player?"
Cook: "My favorite piano player today is Marty Sammon, and my all-time favorite is Ray Charles."
KRVM: "Any "must-have" album recommendations for your listeners?"
Cook: " 'Must' recordings to have are as follows!"
Robert Johnson, Columbia Recordings

Muddy Waters, Plantation Recordings

Blind Blake Complete Recordings

Dinah Washington, Mercury Recordings

Louis Jordan 5 disc box set on JSP

Chess Records box set of Muddy Waters and Howlin Wolf

Doctors Professors Kings and Queens
Other notables:
Sonny Boy Williamson I

Sonny Boy Williamson II

Tampa Red

Georgia Tom

Big Bill Broonzy

Charlie Patton

Son House

Skip James

Jack Owen's

Mississippi John Hurt

Big Joe William's

Tommy McClennan

Jelly Roll Morton

Professor Longhair

Fats Domino
James Booker

Charles Brown

Dr. John

Louis Armstrong

King Oliver

Junior Wells

James Cotton

Little Walter

Buddy Guy

Mississippi Fred McDowell

Otha Turner

Sid Hemphill

Asie Payton

Jessie Mae Hemphill

R.L. Burnside 

Blind Willie McTell

Curley Weaver

Barbecue Bob

Brownie McGhee and Sonny Terry

Etta Baker

Elizabeth Cotton

Tuts Washington

Curtis Salgado

Robert Cray

Blind Lemon Jefferson 

Lightnin Hopkins

Stevie Ray Vaughn 

Paul Delay

Marty Sammon

T Bone Walker
That's a wrap!
We'll close out with a little blues from Robert Johnson.
Come On in My Kitchen
Tune in for more than three hours of blues every Saturday, 5:30 – 9:00 a.m.