Mega-superstar Elton John returned to Eugene's Matthew Knight Arena in March 2017  for a stop during his  Wonderful Crazy Night Tour.
The show was a night to remember…we know all who were there will never forget it.
Fun Elton Facts
Elton John's received five Grammies and five Brit Awards – two for Outstanding Contribution to Music and a "Brits Icon" in 2013 for his "lasting impact on British culture."
What else can you say about a rock icon who's been around as long as Sir Elton?
* He began playing piano at age 3. Within a year, his mother heard him picking out notes to "Skater's Waltz" by ear.
* He was a weekend pub pianist by age 15.
* First American concert? As featured in his new "Rocketman" film, that would be the Los Angeles Troubadour, 1970.
* The megastar has more than fifty Top 40 hits
* Elton John received a star on the Hollywood Walk of Fame in 1975.
* He received knighthood from HM Queen Elizabeth II in 1998.
* He's sold more than 250 million records worldwide including 31 platinum albums.
* Six of his albums made Rolling Stone's "The 500 Greatest Albums of all Time" list.
More career mileposts
In 1970 the young rising star released "Tumbleweed Connection." It reached number two in the UK and number five in the U.S.
"Honky Chateau" began a streak of seven consecutive U.S. number one albums. Similarly, "Goodbye Yellow Brick Road" (1973) topped charts on both sides of the Atlantic.
More highlights:
Elton John performed with Eminem at the 2001 Grammies.
He also performed with Lady Gaga at the 52nd Annual Grammy Awards and with Ed Shearan at the 55th. The Rocketman even performed at Madison Square Garden for a record-breaking 60th time for his 60th birthday.
International hit songs he's penned with Bernie Taupin and others includes "Your Song," "Rocket Man," "Daniel," "Sorry Seems to be the Hardest Word," "Blue Eyes" and "Can You Feel the Love Tonight."
Still a powerhouse
Although he says he wants to retire, for a musician at the ripe old age of nearly 70, the man is still a powerhouse.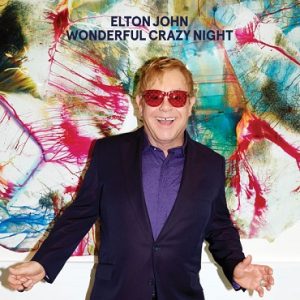 His recent "Wonderful Crazy Night" shows he still has what it takes to engage the listener. It boasts 14 fresh, high-energy tracks, and reached number 6 and 8 in the UK and US, respectively.
Here's "Looking Up" from the new album – we think you'll love it.
Looking Up
Last year he performed an astonishing 131 concerts in 24 countries; he also made a guest appearance on the Red Hot Chili Peppers new album.
In 2017 the Pinball Wizard celebrates his 70th birthday – as well as the 50th anniversary of his amazing songwriting partnership with Bernie Taupin.
About the band
Elton John's band members are: Davey Johnstone, guitars, mandolin, banjo, vocals; Matt Bissonette, bass guitar, vocals; Kim Bullard, keyboards; John Mahon, percussion, drums, vocals; and Nigel Olsson, drums and vocals.
Johnstone has played well over 2,000 concerts, and has been playing with Elton John since since "Madman Across the Water." From Detroit, Bissonette is a published songwriter who used to perform regularly with the Disneyland Band in Anaheim; he's been playing bass guitar since age 12.
Keyboardist Kim Bullard has toured with Crosby Stills and Nash and played with Nine Inch Nails; he's been an active working musician in Los Angeles for more than 30 years.
John Mahon has been playing with Elton John since 1997 and played on a Grammy Award-winning album ("BB King & Friends") with BB King; he was voted #3 Percussionist by Modern Drummer Magazine in 2010. Having played with Elton John for many years, drummer Olsson is considered a mainstay of Elton John's touring and recording band; he has an extremely loyal following.
Another "Wonderful Crazy Night" album highlight has been the contemplative "The Open Chord" – we're hoping to hear it in his setlist.
The Open Chord
Aside from his Eugene show, other 2017 tour whistle stops included Spokane, Bozeman, Missoula, Tucson, Las Vegas, Victoria B.C., Denmark, Germany, Luxembourg, and Rio de Janeiro, Brazil.