Starting Monday, January 15th, Theme Park will return to the KRVM lineup. Hosted by Simon Thaler, Theme Park will air Monday evening between 9pm – 10pm. Each week, Simon selects a theme and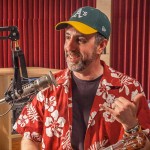 salutes that theme musically. All styles, all genres, all eras…one theme.
In the Spotlight will go on hiatus at this time. Due to Digital Music Rights rules, it has become increasingly difficult for the DJs to find artists to feature on In the Spotlight.