Listen on Tuesday at 9:20 am for the featured Greenhill Pet of the Week sponsored by Dr. Kelli Rosen at Cascade Animal Clinic.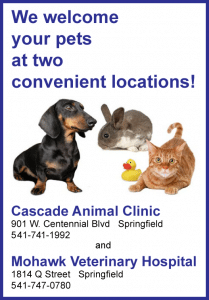 Hi, I'm Mon.  I'm a 3 year old Chihuahua, and once I get to know you I'm a sweet little guy. If you think we would be a good match click on the Greenhill Link below to learn more, and make an appointment to come out and see me – I'm looking for my forever home and it could be with you!

KRVM and Greenhill Humane Society will continue to feature adoptable pets during this period of time where we need to practice social distancing. Through the magic of radio, we will talk with a Greenhill representative about some of the adoptable pets they have available.  
In an effort to help flatten the curve, please note the following:
-Adoption of all animals will be by appointment only. Please call to schedule.
-Found Animals will be Returned to Owner by appointment only. Please call to schedule.
-Please call if you have found a stray animal.
-Our pet food bank is open. If you need support to feed your pet, please visit and we will assist you.
The number to call is 541-689-1503
Greenhill Humane Society, 88530 Green Hill Road, open by appointment only.

If the featured Pet of the Week has already been adopted, inquire about some of the other pets that are available for adoption and looking for their forever home.