If you're a regular KRVM listener you already know about our weekly "Women in Music" show.
We thought it might be about time to introduce our listeners to Lenet Galloway, the show's host since 2006.
In her early days, Galloway learned the ropes of radio broadcasting at the University of California, Santa Barbara.  Galloway's extensive resume includes her own show at radio station KCSB, and interviews with the likes of Sophie B. Hawkins and Karla Bonoff.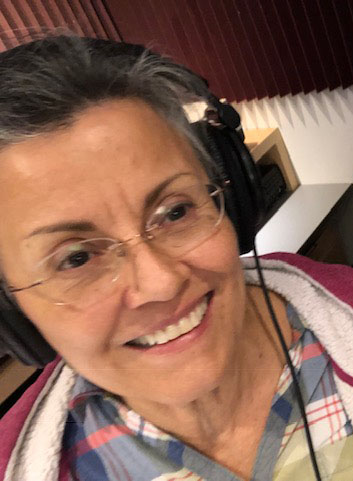 "My primary goal is to play new, high-quality work by women who are independent, on small labels, and/or unsigned," says Galloway.  "With so many titles to choose from, I can bring a new, handpicked playlist every week and provide airtime to artists who might not get it otherwise."
Here's a bit more about this special woman — what she has to say about the show — and about her passion for the music.
KRVM: "What is the usual approach you take to putting songs together for your weekly show?"
Galloway: "This may sound funny but I do consider the phase of the moon when I plan a show each week.  Full moon means uptempo, rock, hardcore even.  Sometimes I do all song titles reflecting a theme, like scary on Halloween."
Continues Galloway: "If last week's show had a lot of jazz, maybe this week I will feature more country. I always try to play the newest acquisitions most, but it is all so good, I can often get lost in one letter of the alphabet for the whole two hours!"
"In other words, I have no set method…I really just have fun finding good songs to play!"
KRVM: "What do you find most challenging about doing the show?"
Galloway: "Not getting carried away on the phone with a listener."
KRVM: "What's the most fun?"
Galloway: "Discovering songs I haven't heard before."
KRVM: "Share a few of your very favorite women performers?"  
Galloway: "Matron Sainte of WIM, and Laura Nyro.  After her, it's hard to say."
KRVM: "Care to name some of your favorite local music venues?"
Galloway: "The Cuthbert in the summer, and The Shedd in the winter."
And, adds the exceptional broadcaster, "I have never repeated a playlist in nineteen years, and all genres and eras are represented."
As might be expected from someone with a 5,000 piece music library, Galloway mixes a wide variety of musicians into her programming. 
Two current favorites
One of her current favorites?  Sunny War.
Here's "If It Wasn't Broken," a beautiful, impressive track from this remarkable artist:
As evidenced by Sunny War's appearance on NPR's Tiny Desk concert last week (last week!), Galloway is exceptional at finding new talent.
Another of her current favorite musicians? Jocelyn and Chris Arndt.
Here's their track, "Nevermind."
Galloway resides in Eugene with her W.C. Handy award-winning blues drummer husband, Eddie Clark.
Tune in to "Women in Music" each Sunday, from 3:00 – 5:00 p.m.
🎵 "Thanks for rocking our world, Lenet!"