A Celebration of Life for Professa Pete was held Saturday, June 1st, at Armitage Park.
"Pr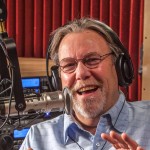 ofessa Pete" Peterson, the host of Bump Skool and an alternate host of Grooveland, passed away suddenly on May 8.  Professa Pete, known for his love of "all things funk", entertained KRVM listeners each week with tracks from his extensive music collection. He loved the FUNK out of life and would remind listeners each week to "Love one another."
Pete came to KRVM in 2000, looking to express his love of FUNK — and justify his music collection. Nineteen years later, and over a thousand shows (Bump Skool and Grooveland), he still found DJ-ing "a blast."  Pete liked to quote Bernie Worrell: "FUNK is its own reward."
When not volunteering at KRVM, Pete enjoyed retirement. He retired from a 25 year teaching career in 2017.
He thought KRVM was the "greatest station in the universe," and – with a wink – dared you to prove him wrong. He was a kind man and will be missed dearly by the listeners, volunteers and staff at KRVM.
Thank you, Professa Pete, for helping make this world a better place.