"Indian Time" returns to the KRVM lineup on Thursday nights.  Hosted by Nick Sixki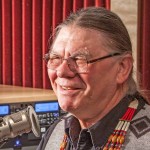 ller, "Indian Time" will return on January 25th at 7pm.
"Indian Time" explores the extensive and richly varied world of American Indian music, including traditional and contemporary songs and pow wow music.  In addition to featuring American Indian music, Nick provides information on Native American community events and pow wows.
Featured artists include Floyd Red Crow Westerman, Radmilla Cody, Northern Cree, Ironhorse, Joanne Shenandoah, Tony Duncan, Southern Thunder, and Buddy Red Bow.