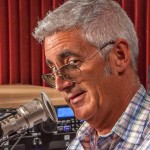 Shotgun Majors, the host of "Tupelo Honey" on Tuesday night, is hanging up his hat and heading down the road. Shotgun's farewell show aired on Tuesday, June 19th, and he will be missed by KRVM listeners, staff and other volunteer DJs.
Shotgun hosted Tupelo Honey for over 10 years. He introduced his listeners to  amazing Americana music, played a wide variety of new and known artists and bands and brought energy and enthusiasm to the drive home for many in our listening area.
We wish Shotgun well and hope, as he steps away from hosting the show, that he will have more time to spend with his family. Good luck, thanks for the great music and entertaining show, and we hope you return in the coming years.