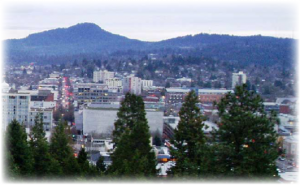 On Friday at 1:00 pm KRVM hosts Adam H. and Stu Allen bring you conversations with local representatives of non-profit organizations and governmental agencies on Focus on Community. These conversations are intended to inform listeners about events and services that are available in our community in order to promote engagement as recipients of services, or as volunteers. Guests on KRVM's Focus on Community are as varied as the Superintendent of Schools, or the Executive Director of Friends of Trees. Guests represent organizations who provide services such as affordable housing, food insecurity, mental health issues, mediation, and more. Government agency guests have covered topics such as Education, Public Health, Employment, Environmental issues and more.
March 6: Maude Kerns Art Center Community Liaison Tina Heffernan and Board of Directors President Ann Hamilton will join us to discuss local artist exhibits, classes and community programs, and the 65 year history of the organization.
March 27:
Jennifer McConochie with the Eugene Concert Choir will be in the studio with the details on upcoming events, including the Eugene Vocal Arts concert of music from 11th -21st century women composers happening on
April 2nd.
April 3:  Center for the Prevention of Abuse and Neglect Co-Director & Director of Research Jeff Todahl, Ph D. will be our guest, to discuss the 90by30 Child abuse prevention initiative.