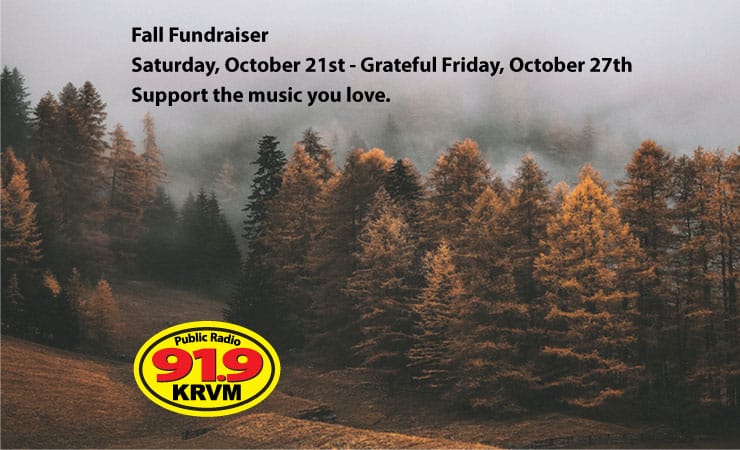 Non-Commercial Public Radio doesn't get any better than KRVM – and it's all possible because of your financial support. You can take pride in being a vital part of the KRVM community.
KRVM students, staff, volunteers, business underwriters and all the members of our KRVM community truly appreciate your contributions to the continued success of the station.
Our Fall Fund Drive starts Saturday October 21st and culminates with the grand finale – Grateful Friday – on October 27th.  Be sure not to miss this 19th annual marathon of music by The Dead & friends hosted by Ed K.
With your donation, KRVM will provide:
Entertaining & diverse programming, with over 30 volunteers sharing their knowledge and love of the many varieties of music and cultures in our listening audience.
Community engagement through member outreach events, our on-air Focus on Community interviews with area non-profits, hourly public service announcements, and more.
The Student Broadcast program – a non-traditional learning environment that facilitates confidence within our students, in class and beyond, and strives to broaden appreciation of music and enhance valuable electronic media skills.
On-air alerts – We're here for you with information on evacuations and other emergencies to keep our KRVM community of listeners safe and aware.
Thanks to the continuing financial support of our loyal listeners, through the renewal of your regular membership or by giving as a monthly Sustaining Member, we are able to provide a quality listening experience that helps make the world a better place, one song at a time!
Thank you for your gift to KRVM, for patronizing KRVM business underwriters,
and for listening and loving this station as much as we do!!
To ensure that we can continue to enrich your life and bring joy to your day, please click here to reach our secure online donation page, or call us at 541-790-KRVM (5786) 8AM-5PM Monday – Friday.