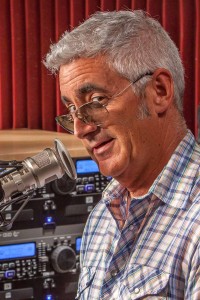 Shotgun Majors grew up in the surfing community of Santa Cruz, California. As a preteen, Shotgun grew tired of listening to the music all of his peers were playing. He decided to explore other musical genres, and his first stop was an unlikely one: country music.
"I knew that somewhere, somebody was listening to country-and-western but I didn't know anyone who would've been caught dead playing it," says Shotgun. "I don't know if it was because I wanted to be different, or because the music was diametrically opposed to what I had been playing. But, the next thing I knew, I was a 12-year-old going to the beach every day to body-surf, then coming home and listening to Merle Haggard and Waylon Jennings."
It wasn't long before Shotgun found his musical nirvana. KFAT was arguably the first true Americana radio station in the world. It broadcast from Gilroy and its signal permeated the Santa Cruz coastline.
"One summer afternoon I went down to a bluff on the beach to check out the waves," says Shotgun. "The last house on the cliff was throwing a party, the doors and windows were open, and people were cocktailing on the deck. They had the radio blaring on an incredible sound system. I didn't know it at the time but they were playing "The Free Mexican Airforce," by Peter Rowan. It had this mariachi sound with people doing that Mexican cowboy call. It was absolutely the perfect music for the setting. And when it ended, I realized they were listening to KFAT. I went home turned my radio dial and found my lifetime love: Americana."
In 1983, Shotgun left Santa Cruz for college in Humboldt County. "I went from the greatest radio station I'd ever heard, to a musical wasteland," Shotgun reflects. He was so desperate that he and a friend tried to put together the funding to run radio transmitters all the way from the Monterey Bay to Eureka, just so they could listen to KFAT. Nowadays, of course, you can do it for free on the internet, but at that time the digital world was just coming into being.
In 2001, Shotgun and his wife left Humboldt for Eugene and, over the years, opened several retail stores scattered around the Willamette Valley. Then, in 2008, KRVM announced that its Americana show was in jeopardy because its DJ was moving.
"I must've heard the on-air solicitation for months that KRVM was looking for a new Americana DJ," said Shotgun. "One evening on our way home from dinner my wife and I heard it in the car, and she said 'You know you have to do this!.' I went home and wrote out an application and the rest is history."
"Americana," says Shotgun, "is probably the most difficult genre in the world to define, but you know it when you hear it." You could hear Shotgun's offerings weekly on Tupelo Honey.
In June 2018, Shotgun moved on to other volunteer activities, ending his popular broadcast Tupelo Honey.
Shotgun spends his free time playing racquetball, doing yard work, bowhunting, and playing with his two young daughters.