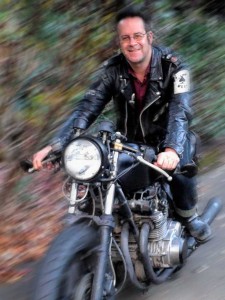 Born and raised in Minneapolis, Paul is a product of the Minneapolis punk scene of the early '80s. Paul's interest in and passion for gathering music began in high school and hasn't backed off to this day.
His first experiences in working with music began as a freshman at the University of Minnesota, where he volunteered on the programming board of the Whole Music Club, located within the university's student union. There, Paul worked with many local bands, as well as touring bands like Chicago's Big Black and Madison's Die Kreuzen.
After college, Paul, his brother, and a couple of friends founded Sonic Warp Productions, promoting all-age punk shows out of an old theater, working with local acts such as Babes in Toyland and the Cows, and with classic punk bands like D.O.A, Toxic Reasons, Pussy Galore, Fugazi, NOFX, the Offspring, and White Zombie, just prior to their national breakouts. Moving into the '90s, Paul began booking rockabilly bands at Minneapolis venues.
This was when Paul first experienced on-air radio. Thanks to Paul's large record collection, a friend invited him to assist on Rockabilly Rumbling, a program on Macalester College's WMCN. Inspired, Paul decided to pursue a career in broadcasting, which led him to KPSA, KNMZ, and KMOO in New Mexico and, eventually, to KNND in Cottage Grove, Oregon. In 2005, Paul bought the station and ran it from May 2005 until June 2013.
Paul then decided to step away from broadcasting. Eventually, he got the broadcasting itch again and approached KRVM with the concept of airing Greaser's Garage. Happily, the idea took off. Since joining our team, Paul has also joined the board of Friends of KRVM and has been hired as KRVM Development Director.