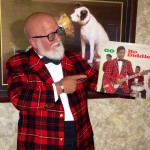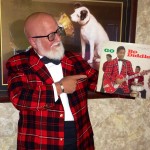 Johnny Etheredge grew up — to the extent that he ever grew up — in Texas and Southern California. As a youngster, in East Texas, he lived for the nighttime, when he could listen to rock'n'roll and rhythm'n'blues on distant radio stations in Chicago and New Orleans.
One particular favorite was Wolfman Jack, who amazed Johnny by broadcasting from the Mexican border on two different radio stations, one inside the Texas border and one in Baja California.
Johnny marveled that — no matter where he might be listening from — "The Wolfman is everywhere!" Johnny was 19 years old when, in 1970, he began his radio career at KLCC. (You can do the math — he comes by his bald head and white whiskers honestly.) He also served as Program Director and on-air personality at a half-dozen Eugene area radio stations, before assuming the Program Director position at KRVM in 1980.
When Johnny came to KRVM, the station was on the air only six days a week, for as little as eight hours a day, and only during the school year. Johnny is most proud of his success in developing KRVM's volunteer recruitment and training program, and in guiding the station's expansion to full-time operation.
Johnny earned a degree in Telecommunications and Film at UO. In 1993, he left his position as KRVM Program Director to pursue a Master's Degree at OSU, with the goal of becoming a full-time classroom teacher. He retired after a twenty-year teaching career in the Marcola School District. 
In addition to remaining very active at KRVM, Johnny enjoys being a member of the Rainy Day Blues Society. He's much in demand as an MC for special events. He and his wife Candy never miss a chance to hear any of their favorite "oldies" artists in concert, and he regularly shares his interviews with these artists on his KRVM shows.