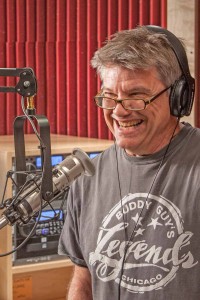 When his father asked him what he wanted to be when he grew up, Brad told him, "Either a cartoonist or a disc jockey." His father replied, "No, a real job. What do you want to be when you grow up?"
In 1996, when he had "grown up," Brad founded and still owns Huckleberry Fence and Deck, a high-end fence and deck company in Eugene. Each year, for inspiration and in his spare time, Brad visits several Japanese gardens.
When Brad was in his early twenties, his father's neighbor couldn't believe Brad listened to public radio. As encouragement, the neighbor gave Brad four albums: Bix Beiderbecke, Artie Shaw, the Hal Kemp Orchestra, and Brownie McGhee & Sonny Terry. Shortly afterward, Brad attended a BB King and Bobby "Blue" Bland concert and was hooked on the blues!
Through the years, Brad has attended many Buddy Guy shows and, in 2002, was able to go backstage. Buddy invited Brad to stop by his club, Legends, in Chicago. In January of 2003, he walked into Legends and found Buddy seated at the bar with some of his friends. Buddy remembered Brad, and the seed to a friendship was planted. Now, Brad spends time on the road with Buddy Guy and his band and enjoys taking photographs at their concerts. He says it's been an incredible experience and a ride he hopes goes on forever.
When Brad's not at KRVM or on the road, he's an outdoor enthusiast and member of a club called "Turns All Year,"  a group of 50–60 skiers who ski one day each month, all year round. As of May 2015, Brad had skied in 189 consecutive months.