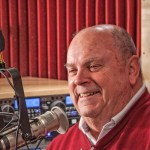 Born in San Francisco, BoogieKing Steve grew up listening to a wide range of music. Artists like Tennessee Ernie Ford, Barbara Streisand, Frank Sinatra, Linda Ronstadt, Diana Krall and groups like Lovin' Spoonful and Jefferson Airplane. Throughout the years of listening to all different types of music, BoogieKing Steve found his love for the Blues.
BoogieKing Steve started volunteering at KRVM over 10 years ago and has entertained KRVM listeners with music from some of the best Blues artists in the industry on Breakfast with the Blues.
When BoogieKing Steve's not playing the Blues on KRVM, he loves taking photos. Whether it's scenic photos on hikes in Oregon, to captive photos of musicians at live shows, BoogieKing Steve enjoys capturing the moments and sharing them with friends. Several of his photos have graced the Breakfast with the Blues t-shirts.
Steve also loves experimenting with cooking, like making pizza on the BBQ grill, and enjoying excellent wines from our region.