September 26th marks the 50th Anniver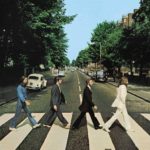 sary of the release of Abbey Road, the most successful of The Beatles albums, and host Billy Safier paid special tribute on the "Beatles Hour".
Billy featured music from the album, as well as, interviews and information on the release of the remix of Abbey Road.
Abbey Road was the eleventh studio album by The Beatles and the recording sessions were the last in which all four Beatles participated. Songs like "Come Together", "Something" and "Here Comes the Sun" were featured on the album.