Thank you for your support during the Winter Membership Drive. We are truly appreciative of your continued support and will continue to work hard to play the music you have grown to love.
If you missed the chance to financially support KRVM during the Winter Membership Drive, no worries!  You can donate any time of year or sign up to be a sustaining member.
Your financial contributions have a direct impact on our ability to keep a good thing going. Contribute today by visiting our secure donation page at KRVM.org or call 541-790-5786 during business hours.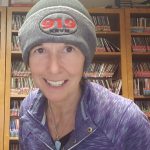 For a donation of $75, you can choose a KRVM Tote bag, T-shirt or Limited Edition Beanie (pictured here and worn by KRVM Program Director Debi Starr).
Thank you and stay warm!
KRVM Staff and Volunteers