KRVM wrapped up the 2018 Winter Fundraiser and we want to thank all of our members for their support. Though we fell short of our goal, we appreciate every dollar that was donated and will continue to play the "Real Variety in Music" you have come to enjoy.
Your financial support is key to helping KRVM stay on the air and keeping local public radio alive. KRVM has been on the air for 70 years and we have you to thank! If you missed the fundraiser, and still want to support the station, donations are accepted year round. A sustaining monthly membership is a great way to show your support throughout the year.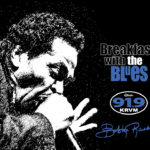 Please take a moment now to give online here or call us at 541-790-5786. For those of you that donated $100 or more to Breakfast with the Blues, we'll order the T-shirts soon and hope to mail them out in March.

You are an indispensable part of the KRVM family, and with your support, we promise to keep the great sound of KRVM in your life.