Earthsongs
Thursday 11:00pm to 12:00am
Earthsongs
Thursday 11:00pm to 12:00am
Hosted by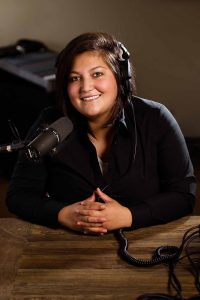 Are you looking for radio that is authentic and hip, informed and Indigenous? Then tune into Earthsongs, a weekly one-hour blend of today's contemporary Indigenous artists that are setting new directions in blues, folk, jazz, country, reggae, and hip-hop music, hosted by Alexis Sallee (Iñupiaq/ Mexican American).
Each week, Earthsongs gives public radio listeners the chance to explore Indigenous influences that help shape and define contemporary American music.
Earthsongs is distributed by Native Voice One and can be heard on radio stations across the country. The program is produced by Koahnic Broadcast Corporation (KBC), a nonprofit, Alaska Native governed and operated media center located in Anchorage, Alaska.
Playlists From Past Shows