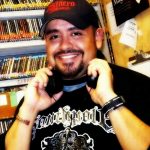 AJ "the Voodoo Child", host of the Friday morning edition of Breakfast with the Blues and GTR Radio on Saturday night, passed away on July 27th. His passing will be felt both on-air and at the studio as AJ was a friendly voice to KRVM listeners and a friend to many staff and volunteers.
His enthusiasm for the music – and amazingly good ear for what sounds fabulous on the radio – made listening to Friday Morning Breakfast with the Blues and Saturday night's GTR radio a joy.  His listeners could always tell he was happy when he was on the air and his energy was contagious for many.
AJ grew up listening to several different types of music.  Through the nature of widely varying influences — from honky-tonk country, to funk, rock, and metal, AJ's playlists gravitated to all things hard, fast, passionate, jumpy, and grooving, recreating for his listeners the energy of a live show.
His KRVM family will miss him and the passion and delight he shared with many.