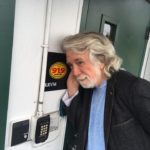 John McEuen stopped by the KRVM studio for an on-air interview with Mike Meyer, one of the "Acoustic Junction" hosts.  McEuen was a founding member of The Nitty Gritty Dirt Band and has also enjoyed a stellar solo career.
John talked with Mike about his career and achievements throughout the years. It was an engaging interview and he shared stories about his music and the artists he has worked with over the years.
Our photographer caught John at the KRVM front door, "pleading" to be allowed inside. We appreciate John's sense of humor and finding time in his busy schedule to talk with Mike and entertaining our listeners with his music and stories.