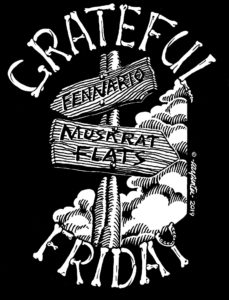 The KRVM Fall Membership Drive wouldn't be the same without Grateful Friday. Ed K will host the 13-hour marathon of Grateful Dead music on Friday, October 18th starting at 8:00am. 
If you're a Dead Head, or just someone that enjoys the music of the Grateful Dead, join KRVM 91.9 on Grateful Friday for a day of music,  fun and a few surprises. This year's Grateful Friday artwork (graciously created by local artist Jim Carpenter) will be featured on the limited edition T-shirt.
Grateful Friday is an important part of the KRVM 91.9 Fall Membership Drive.  A Limited Edition Grateful Friday T-shirt is available for any donation of $100 or more.  Donate online today and specify that you would like a Grateful Friday sh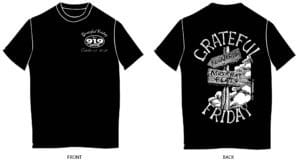 irt and the size or give us a call at 541-790-5786 and we'd be happy to accept your donation and get you on the T-shirt list.