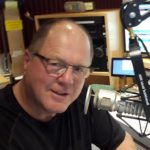 Ray Wilson is a Eugene/Springfield native with deep roots in radio broadcasting dating back to 1980. His "day job" has included sales and management roles in the area for many years.
Ray got his break in radio as a result of a compliment from a program director at KIQY (K104) in Lebanon for his deep voice. After some training, Ray became one of the weekend on-air staff. After a move back to Eugene, where he calls home,  Ray mingled with fellow disc jocks at local venues and eventually was hired for a weekend shift at KZEL. He was at KZEL (off and on) for about 25 years.
Around age 50, Ray decided to hang it up by virtue of the corporate take over and total automation of the commercial radio industry. After reconnecting with KRVM Program Director Stu Allen (Old radio friend since the mid-80s), the excitement of creating a personalized radio show with hand picked selections was enough for Ray to return to the airwaves!
Ray's knowledge and love of music is a direct result of attending over 200 concerts throughout the years and meeting several artists, famous in their time, dating back to the mid-70's. He also grew up in a musical family, playing guitar and other instruments. As Ray puts it: "It is exciting to be touching the music again and putting together a meaningful musical experience for the listener's ears!"