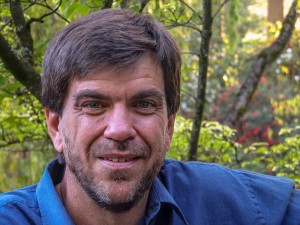 Mike is a concert producer and a counselor in Eugene, and loves the music deeply — for him, it embodies life flow and life lessons. In his counseling role, he leads community wellness classes. Mike says singer-songwriters capture the empathy and community he longs for, while instrumentalists tap into nature's melodies and rhythms.
Mike produces about 75–100 concerts per year, often in a living room or bookstore setting, featuring some of the most accomplished national and international acoustic artists of this generation. He also promotes and enjoys "ecstatic dance" to various musical genres. He's a former member of the WOW Hall's board.
But mostly, you'll find Mike show-hopping several nights a week, finding songwriters and bands that move him.
Mike's radio experience spans 35 years, including KKUP in Cupertino, California and KMHD in Portland, during which time he's interviewed several thousand guests. He's been with KRVM for 22 years. Mike believes strongly in public radio and its mission, and says he's honored to be a part of it.