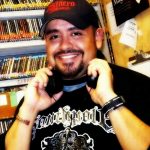 AJ (the Voodoo Chile) Guerrero grew up in a Colorado town about the size of Creswell, just one block from the downtown area and near three of the five taverns in that small, country town. Every Saturday evening, the barroom doors stayed open and live band music spilled out onto streets and back alleys — everything from contemporary country to Mexican Conjunto to popular covers. Folks of all ages could enter the bars in Colorado, which fostered AJ's love for the electric energy of a live band.
Two older siblings with varied musical tastes and large album collections exposed AJ to everything from funk to rock. From bands like Parliament, Brothers Johnson, and the Bar Kays, to Queen, Zeppelin, and Blackfoot, to…well, name a few.
AJ's mother also listened to contemporary soft rock/pop music, often sprinkled with old country and western, and songs from her Spanish musical heritage.
When MTV and music videos erupted, AJ was hooked and exposed to heavier rock, pop, and heavy metal. During a working stint on a ship in Alaska in the '80s, AJ discovered the blues — a love and staple ever since.
Given the nature of those widely varying influences — from honky-tonk country, to funk, rock, and metal, AJ's playlists gravitate to all things hard, fast, passionate, jumpy, and grooving, recreating for his listeners the energy of a live show.