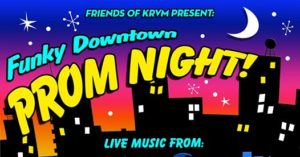 Friends of KRVM present the Funky Downtown Prom Night Saturday, May 12th at the Hi-Fi Music Hall. This is a chance to make Prom whatever YOU want it to be – no matter how that high-school version actually played out for you. Dress fancy, dress funky, dress however you want, just come prepared to dance and have a good time.  The Hi-Fi Music Hall will be decorated to the hilt, complete with disco balls and balloon arches.
In the Main Hall of Hi-Fi Music Hall, the 8-piece soul funk band Soul Vibrator, known for their high energy live set, will headline the evening. Candy Apple Bleu will open the show with their brand of "Yacht Rock," 70s and 80s smooth soul, R&B, funk and disco that will bring a sense of nostalgia to the evening. In the Hi-Fi lounge, KRVM DJs will play a variety of music to dance to: Tim Little from "Routes and Branches" will start the evening with Americana music. "Bump Skool's" Professor Pete will get the funk flowing, leading to a set of upbeat reggae from the crew of "Zion Train", Emperial One and Pete Bodega. Rounding out the evening in the Lounge, Jivin' Johnny Etheredge (host of "Son of Saturday Gold," Country Classics," and "60s Beat"), will keep your feet moving with a set of Motown, Stax, Atlantic and more Soul and R&B.
Another highlight of the event will be the selection of a Prom Court with the most creative individuals being anointed and receiving a fabulous prize. Kelsie Burke Photography will provide a photo area, with a decorated backdrop to get your prom pictures taken. A chocolate fountain, flowing with Euphoria Chocolate and other surprises will add to the special night.
The Funky Downtown Prom Night is backed by DEM, the Downtown Eugene Merchants, a nonprofit group working to support downtown business and revitalization. DEM has secured dinner and beverage specials at several downtown restaurants so prom attendees can make a full night of entertainment in downtown Eugene. For more information on participating establishments, visit the DEM or Hi-Fi Music Hall websites
Prom Night Details:
Tickets – $18 in advance/$22 at the door available at Hi-Fi Music Hall, Erb Memorial Union, Skip's CD World and online at hifimusichall.com

In the Lounge – KRVM DJs playing upbeat music to dance to:


7 – 8 pm: Tim Little – Americana

8 – 9 pm: Professor Pete – Funk

9 – 10 pm: Corey and Pete – Reggae

10 – 11 pm: Jivin' Johnny – 60s Soul/R&B

In the Main Hall – Candy Apple Bleu (Yacht Rock) at 8 pm, Soul Vibrator (Soul, Funk) at 9:30 pm

All areas of the Hi-Fi Music Hall will be decorated extensively

There will be a "photo booth" by Kelsie Burke photography so attendees can get their prom pictures taken

There will be the coronation (with prizes) of a "Prom Court"

Fanciest Dressed

Most Creative

Best Couple or Group

A chocolate fountain flowing with Euphoria dark chocolate and goodies to dip into the fountain


A signature cocktail made with Heritage Distilling