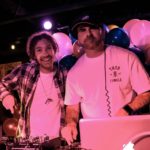 The Funky Downtown Prom was a great night of entertainment, dancing and fun. Many thanks to Friends of KRVM,  DEM (the Downtown Eugene Merchants) and other sponsors of the event: shoe-a-holic, Jazzy Ladies Cafe',  Heritage Distilling Company and Euphoria Chocolate. Here's a link to a few photos from the event. More photos can be found on the KRVM Facebook page.
In the Main Hall of Hi-Fi Music Hall, the night started with Candy Apple Bleu playing their brand of "Yacht Rock," 70s and 80s smooth soul, R&B, funk and disco.  Following Candy Apple Bleu, the 8-piece soul funk band Soul Vibrator, known for their high energy live set, headlined the evening.
In the Hi-Fi lounge, KRVM DJs kept the energy flowing with a variety of music that kept the crowd moving. Tim Little from "Routes and Branches" started the evening with Americana music. "Bump Skool's" Professor Pete followed and kept the funk flowing, leading to a set of upbeat reggae from the crew of "Zion Train", Emperial One and Pete Bodega. Rounding out the evening in the Lounge, Jivin' Johnny Etheredge (host of "Son of Saturday Gold," Country Classics," and "60s Beat"), kept everyone dancing the night away with a set of Motown, Stax, Atlantic and more Soul and R&B.
Attendees dressed in fancy, funky and fabulous outfits. It was an evening to come dressed up or dressed down, just come dressed to dance and have fun. The halls were decorated with balloon arches, the Prom Court was selected, the chocolate fountain was flowing and Kelsie Burke Photography took prom photos of some of the fabulous outfits and wonderful smiles.
Thanks again to everyone that attended and helped make the event a success.